Michel Ebben | Official Playlist on YouTube
April 2016


This month's highlight! If you want to check out all the latest videos of Michel or Gravel Town, go to YouTube and watch Michel's official playlist. Here you'll find all new releases and Michel's latest live videos; new songs, The American Roadshow gigs, solo concerts and compilations of different EPs and albums. Enjoy!
Follow Inertia
Here you can follow the making of Michel's first solo-album Inertia. We'll keep you posted with regular updates, photos & videos and short stories.
June 3, 2016
"The final touches of mixing the new single 'Emma's Diary'!! Stay tuned!"
Follow the making of Inertia on Instagram
.
Upcoming shows
Below you find the first coming shows of Michel Ebben, Gravel Town and other artists Michel is working with. For all coming and past shows, look here!
June 5, 2016 | 7.35 pm
Kampvuur Festival
Mill | NL
Michel Ebben
July 17, 2016 | 3.45 pm
Zondag in het Park
Zoetermeer | NL
Michel Ebben, Bregje Sanne Lacourt
August 20, 2016 | 4.00 pm
Pica Pica Parade | Dertien
Rotterdam | NL
Michel Ebben
September 4, 2016 | 5.00 pm
Café Sijf
Rotterdam | NL
Michel Ebben
September 22, 2016 | 8.00 pm
The American Roadshow, Scheltema
Leiden | NL
Gravel Town
Look here for all upcoming shows!
Studio time, recording Inertia
February 2016



Michel's working hard on finishing his first solo album, Inertia. Long days in the studio, but it's going to be worth it! We'll keep you updated with news, photos and short videos, posted in the section 'Follow Inertia', in the right column.

Furthermore, Michel's going to do a few try-outs of songs featured on the album, the next coming solo gigs. Look under 'Upcoming shows' to find out where Michel is playing. It would be great to see you at one of the shows.
A letter from Dreamland - First Snow will fall Tonight
January 2016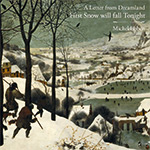 During Christmas 2015 Michel released a new single; A letter from Dreamland - First Snow will fall Tonight. The song is available for purchase and of course streaming. You can download the artwork (PDF) here. And you can watch the video of A Letter from Dreamland - First Snow will fall tonight on YouTube.
All proceeds of the song will be donated to the Nederlandse Leverpatiënten Vereniging (Dutch Liver patients Association) to support people with a liver disease! Visit the music page for more info!
New tour dates 2016
December 2015



The year 2016 hasn't yet begun but new shows and dates are always coming in! Next to working on his solo album and other songs Michel plans to play a lot of gigs, in the Netherlands and abroad. Check the 'upcoming shows' section on the right to see where Michel is playing. For a complete overview of all shows, look here. We'd love to welcome you at one of the shows!
The American Roadshow, spring 2016
December 2015



Richard Beukelaar
The American Roadshow is a new concert tour playing in venues throughout the Netherland, based on the tours Rock and Roll artists did back in the Fifties, like Elvis Presley, Johnny Cash, Buddy Holly and Roy Orbison. The American Roadshow supports 'American sounding artists' from the Netherlands and abroad and is organized by Demet Köysüren from der2run, with the support of Martijn Ebben (Gravel Town) and Michel.
Read more
The History of Gravel Town
November 2015



'The History of Gravel Town, Chapter III - Single Men' is the first part of Gravel Town's second album, which will be released in different chapters. The album is based upon old photographs and stories of ancestors of the members of the band and their relatives. Single Men is the third chapter and was released in November 2015. In the spring and summer of 2016 other chapters will follow. Read more about The History of Gravel Town on the music page.